---
This site is dedicated to the preservation, repair and everyday use of Vintage 1950's - 80' Stroboflash I, II, and IV photographic strobe units as produced by the Strobo Research Company of Milwaukee, WI and later by Graflex Inc. of Rochester, NY.
---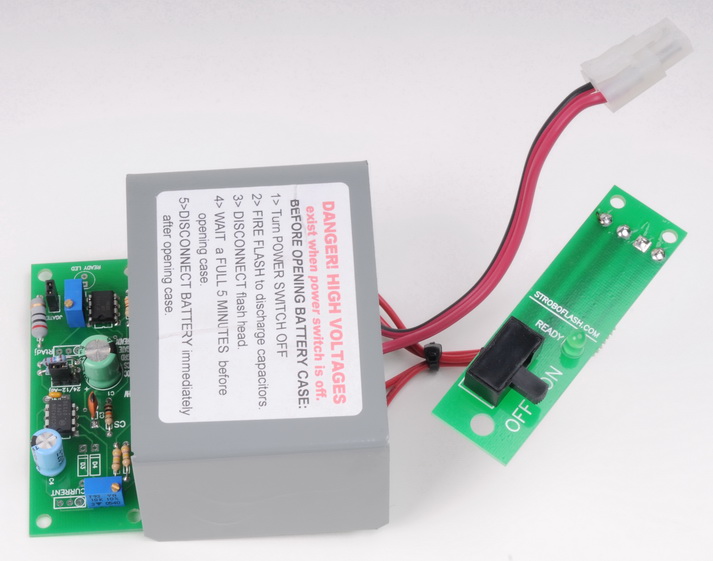 Bring your 20, 30, 40 even 50 year old Stroboflash in to the 21st century. Replace those really EXPENSIVE old Eveready 489's with a "state of the art" 12v/24v to 450v switch mode power supply (SMPS). That's right! I just LOVE Stroboflash, the finest portable photographic strobe light ever designed. This is a brand new state of the art rechargeable power supply that will fit right in the Stroboflash II or Stroboflash IV case. RBPS plugs right on the existing battery connection pins of the Stroboflash pack. No wiring required. Just add batteries and start shooting.
Uses a widely available 12v rechargeable Nickel Metal Hydride (NiMH) batteries. Recycle time using a Stroboflash IV on FULL power is 4 seconds!! 1/4 power is < 2 seconds. Flashes per charge are in excess of 200!! Up to 1000 discharge / recharge cycles. 81 cents per 1000 flashes!
Designed and Made in USA!
For more information: Contact
" I have bought 5 of these RBPS units from Stroboflash.com and I LOVE THEM!!!! I heartily and unhesitatingly recommend these to EVERYONE who has a Stroboflash unit. I have personally tested these RBPS units and they do exactly what Stroboflash.com says they do."
"All of this for LESS than the cost of a set of NON rechargeable 489 batteries!!! Stroboflash users, get these RBPS units today!!! I guarantee you will LOVE them!!"
Karl D. Schefft - owner of the Worlds Largest Stroboflash collection.
For the full testimonial Click Here
RBPS II Available Nov. 1, 2008
RBPS I has been discontinued as of OCT 30, 2008
Rechargeable Battery Power Supply (RBPS) for Stroboflash II and IV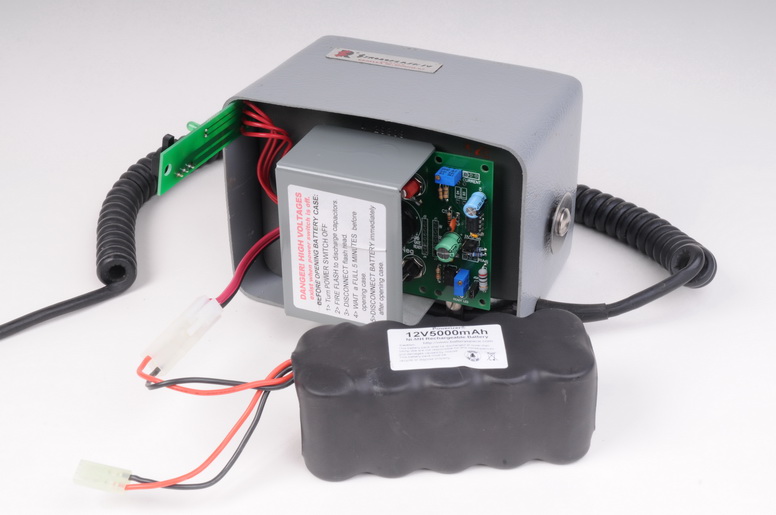 RBPS II is shown connected to Stroboflash IV unit and one 12v NiMh battery pack. RBPS II uses one OR two battery packs. Two packs (24v) delivers less than 2 sec full power recycle time, more flashes per charge. Faster than the Stroboflash head can reset the trigger.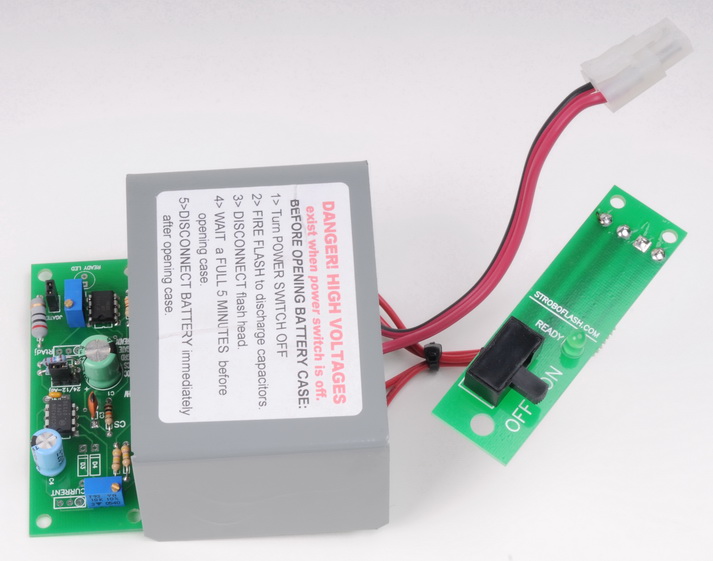 RBPS unit complete.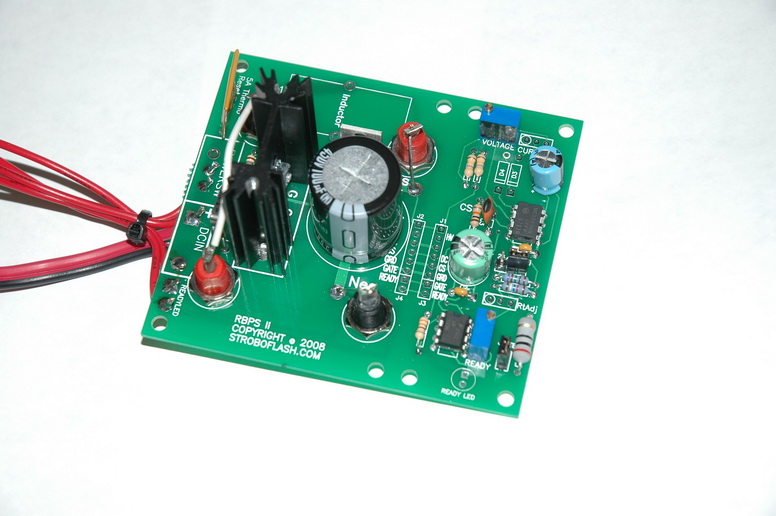 RBPS II Circuit board.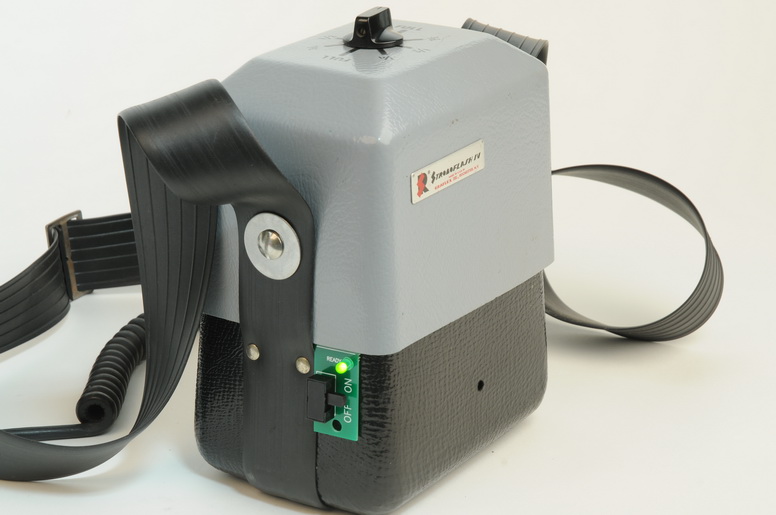 RBPS Power Switch and Ready Light is all that is exposed.
Rechargeable Battery Power Supply
Switch-mode power supply. Boosts voltage from 12/24vdc (5A/10A) to 450vdc (300mA)
Modern solid state design using state of the art components.
RBPS plugs right on the existing battery connection pins of the Stroboflash pack. No wiring required.
Output 450 volts dc regulated +- 2v.
All power components are fully heat-sinked for durability.
Automatic reset circuit breaker in the event of overload.
Includes external power switch and LED ready light.
Optional cooling fan for "Power Users".
Assembled and tested RBPS II circuit board
Ready to plug in batteries and start shooting.
Please note: The price quoted is for the assembled and tested PC board only. The batteries and Stroboflash unit are NOT included. All prices are quoted plus shipping.

RBPS II
$ 150.00

In an effort to save you money and keep things simple we do not sell the batteries and chargers. These types of batteries are widely available on the internet and from hobby shops. You can pretty much use any battery as long as it can output at least 4aH at 12volts and will fit in the Stroboflash case. We suggest NiMh batteries but NiCd (a little cheaper) or Lithium (expensive!) will work just fine.

Batteries and chargers- please purchase from links below:

Batteries:
Need Qty. 1 RB-HC10R2T-MT5000 Robot / RC car batteries

Battery Chargers:
Need Qty 1 CHUN-123

OR

12v Battery and Smart Charger Combo:

Alternate Battery sources:

Batteries and chargers are available at most hobby shops. They are used for robots and remote controlled cars. Any 12v NiCd or NiMh battery pack will work (make sure it fits in to your case!). Must be minimum 2500 mAh. 5000mAh or larger is best. 12v lead acid, lawn mower or car battery is great too but probably wont fit in the Stroboflash case.

1 required

1 required
Save money!
Cost comparison between RBPS and Eveready 489 batteries
Cost per 1000 flashes
Eveready 489 drycell batteries(no longer made)
$$$$/1000 flashes
The new RBPS II Rechargeable Battery Power Supply

1000 recharge cycles @ 200 flashes per charge = 200,000 flashes

98 cents !!!
per
1000 flashes
For more information: Contact
When available.
Complete 200 Watt Second Stroboflash IV unit including Head. $175.00
(RBPS II and Battery not included.)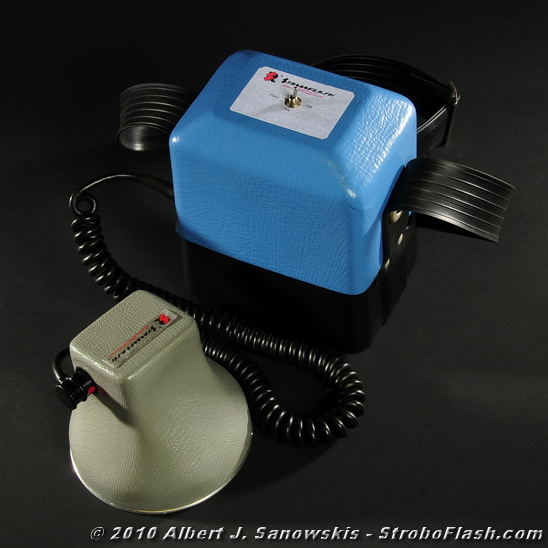 The best strobe light in Photography!
New 21st Century technology!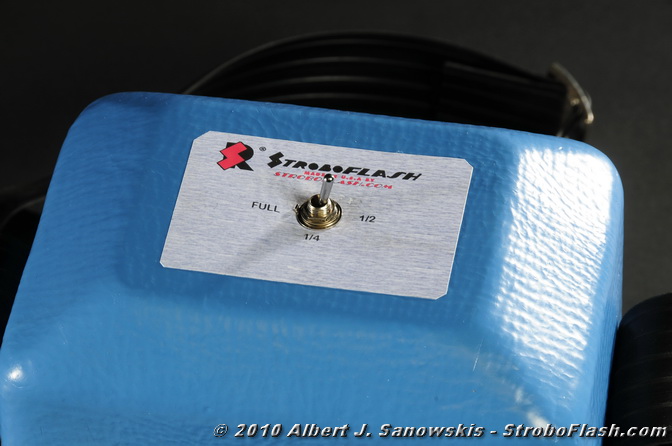 The old, heavy, capacitor pack has been replaced with a 21st century printed circuit board and new modern light weight capacitors. Same 200 Watt Second power as the original with half the weight. This is what is inside the refurbished Stroboflash IV. Power selector switch is protected against arcing by large solid state rectifiers. No more burned switch contacts!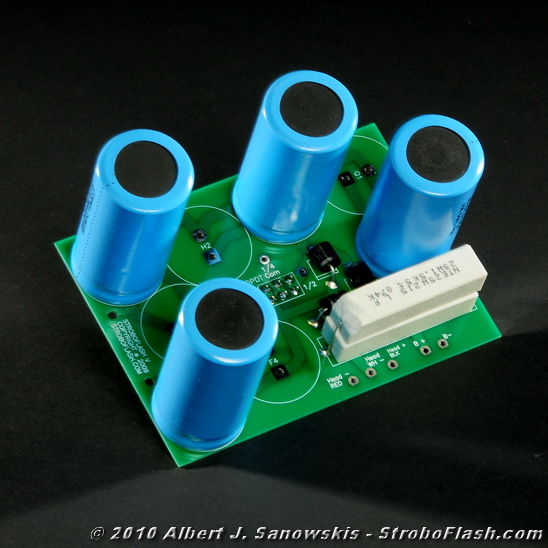 Here is what is included in the refurbished Stroboflash IV.
* Refurbished capacitor pack. New power selector switch, printed circuit board, new capacitors. Coil cord is vintage but tested and working. Vintage plastic case may or may not be repainted depending on condition.
* Refurbished Stroboflash head with solid state trigger and new trigger capacitors for 21st century reliability.
Please NOTE:
If you are going to use a Stroboflash with a modern digital camera you must use a Wein Safe-Sync (available from B&H and Adorama) between your camera and the sync cord connected to the Stroboflash head. Most digital cameras can only handle less than 12volts at the PC socket or hot shoe. Stroboflash is MUCH higher than 12volts!
Stroboflash IV refurbished unit only $ 175.00 US
Rechargeable Power supply (RBPS II) and NiMh battery and charger not included.
For more information: Contact